I flew out of Wellington on 20th of July, 2016, in the middle of a bitter winter, for a two week adventure around Japan (Tokyo -> Takayama -> Kanazawa -> Hiroshima -> Kyoto), followed by four weeks in Thailand (Bangkok -> Chiang Mai -> Koh Phangan -> Koh Tao).
This was the longest trip I've been on as an adult, and was also my first time solo traveling outside of New Zealand.
I departed from Wellington, New Zealand, destined for Tokyo, Japan, on the plane you see below. In Wellington, it was on a freezing cold, dark, overcast winter day. In Tokyo, it was a hot summer day. There's something awesome, and wonderful, about boarding a plane in winter, and 10 hours later, departing the same plane, to arrive in summer.

I boarded the flight at about 7am, and since I'm fairly tall, I paid a little extra for a seat with extra leg room, and was pleased to find I could stretch my legs straight out in front of me! Perfect. As the flight is taking off, one of the hosts sits down on a jump seat, directly in front of me, and we get chatting. He's recently qualified, and is pretty enthusiastic about being a member of the Air New Zealand team.
Shortly after takeoff, he unbuckles his seatbelt, and heads off to resume his work. About 20 minutes into the flight, he turns up again, and says to me "there's some seats available up front if you'd like to come with me." An upgrade? I certainly would like to come with you! This is the first time I've ever been offered an uprade on a flight, and I try to contain my excitement. I follow him closer to the front of the plane where the Sky Couch seats are.
This trip is getting off to a great start.
On the Sky Couch, you'll never have a stranger sitting next to you; it's not possible to book individual Sky Couch seats; a single booking covers all three seats in the row. Because of this, it's not very economical when you're traveling solo, they're often booked by couples, families of three, or just three friends travling together. I didn't take any photos of my new seat, so grabbed this one from one of the promotional sites: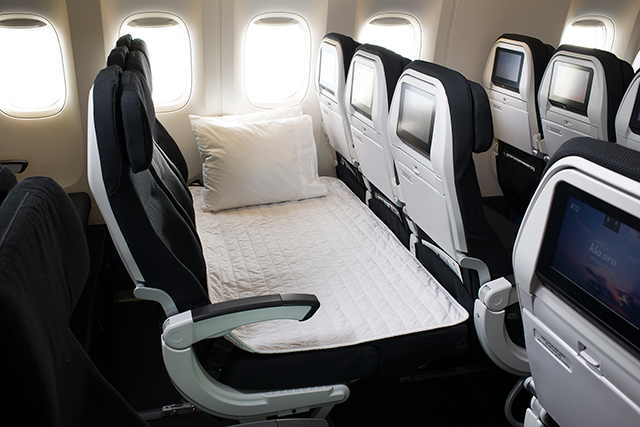 I sit down and he shows me how the seats work. The footrest folds out flat to convert the seats into a bed, as you can see in the above photo.
On the flight, I read for a while, then scanned through the films to find Hunt for the Wilderpeople, which plenty of people have recommended to me. I watch it, and find it both awesome and hilarous.
I'm feeling pretty tired, since I had to arrive at the airport pretty early in the morning. I lay down for a nap, and since I can actually lay down, the nap turns into an actual sleep for a few of hours. I don't think there's a better way to start this trip, and arrive in Tokyo feeling pretty fresh.
Immigration, customs, etc, is a breeze, and being from New Zealand, I get a 90 day Japan visa on arrival. Easy!
Wandering around the Tokyo Narita airport terminal, I'm somewhat bewildered, not sure where to go, trying to find where the trains are, so that I can get to my hostel in Asakusa.
I head to one of the tourist information counters to get some help to figure it out. The assistant is happy to help, speaks English, understands my New Zealand accent (which was challenging for some people, including several native English speakers), gives me a train map (which looks more like a maze to me), and makes some markings indicating exactly which train I need to catch, and which stop I need to get off at. She points to where I need to walk to catch the train, which was about 2 minutes walk away, and then even gives me a sincere apology that it's 15 minutes wait until the next one. No problem, I'm happy that I have time to hang out for a while, and get my bearings, rather than having to rush for the train.
I wander down stairs to the train platform. I'm a bit dehydrated, see a vending machine ahead, and am happy to see Pocari Sweat is for sale.
As far as I know, Pocari Sweat isn't available in New Zealand. The first time I tried this, was in Hong Kong, where I stayed for two weeks back in 2011. With the amusing English in the advertising (and the fact that it's a great drink) it became one of the highlights of Hong Kong trip.
I pick up a bottle, and sit down while making sure I'm in the correct place for the train, and take a break. You can see a bit of the maze-like train map in the photo below, or download the full map here
I board the train to Asakusa. Figuring out where to get off is easy, the train stops are all numbered, except for the ones leaving the airport i.e. Aoto. I get off at the A19 Asakusa stop. The Tokyo MTR trains are easy, and faimilar from my time in Hong Kong, which from memory, has a similar train setup. The train trip took about an hour.
The Japanese street addressing system is unlike anything I've experienced, and was super confusing on arrival. Fortunately, through most of the main streets around Tokyo, there are billboard maps every few blocks, so I could figure out where to go based on the image on the map, combined with the helpful "you are here" markers. It doesn't take long to find my hostel.
I stayed at the ENAKA Asakusa Hostel and couldn't have been happier. If I ever return to Tokyo to stay in a hostel, I'll likely stay in the same place; the hostel is really modern, and clean. The staff, and guests were friendly. The beds are comfortable, and are all in large capsule style enclosures, with plenty of room to sit up, but not high enough to stand up. The location is excellent too, a few minutes walk from the train station.
Asakusa is a much calmer and more tranquil place compared to central Tokyo, without the crowds, noise and traffic, while still being fairly central.
If you're traveling to Japan in July, like I did, it's a good idea to pre-book your hostels; it's a busy time of year, and if you wait too late, you'll find the best hostels are fully booked.
One of the things which was particularly useful when planning my trip was the Beautifully Travelled blog, which had a detailed, and awesome, two week itinerary, which made planning so much easier.
If you're interested in the gear I took with me, you can read about it here: Traveling light on a six week trip around Japan and Thailand