Whenever I travel, I keep my luggage as light as possible, traveling with carry-on only; everything fits inside a 38 litre backpack, usually with room to spare, and this trip was no exception.
My entire set of luggage, for my 2016, six week trip around Japan and Thailand, weighed about 6kg (14lb). During my trip, I picked up a few more things, which pushed the total weight up to about 7kg, which was still within the carry-on weight allowance.
I travel light because I think it's by far, the easiest, simplest way to travel; no checked-in luggage, means no lost luggage, no awkwardness with connecting flights (just grab my bag out of the overhad locker, and I'm ready to walk to the connecting flight), no need to wait for the baggage carousel, no dragging around multiple suitcases, easy to get on the bus or train.
Below is a photo all of my luggage, in the "capsule" room, where I slept in Asakusa, Tokyo.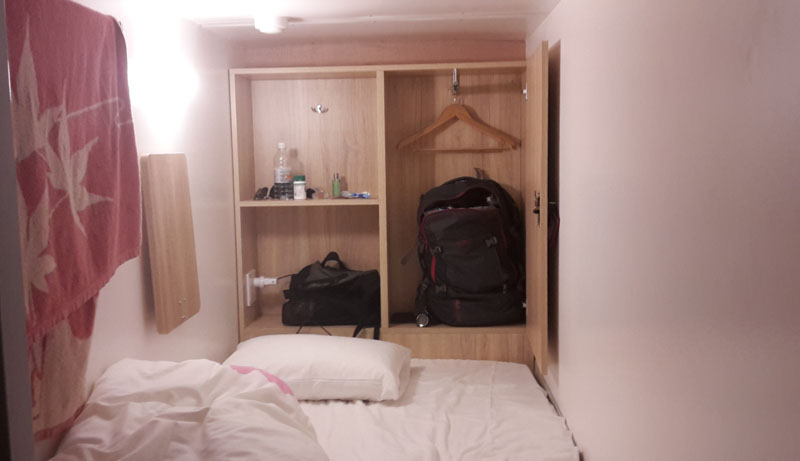 I started my journey with only three full sets of clothes, hand washing the first set every day, wearing the second set, and keeping the third set as a backup, in case I couldn't wash the first set. This means that I always have clean clothes to wear each day. During the trip, I picked up some board shorts, and a few extra t-shirts, which meant I could get a bit lazier with the washing, and still have clean clothes to wear every day.
Below is a list of what I took with me on departure, at the start my six week trip. It was summer in both Japan and Thailand, so every day was roughly 30c / 86f; there was no need for any bulky jackets, or heavy jerseys.
Gear
38 litre backpack (in which I can fit everything)
Day bag - a fairly small, ultra lightweight backpack for day trips. You can see it in the lower left of the photo.
Galaxy S5 Mini cellphone - awesome phone, great camera, perfect size, and great battery life. It turned out to be invaluable
Kindle Paperwhite 3 - I bought this a few weeks before my trip and it's so awesome. A life-changing device!
NZ -> Japan/Thai power adapter
Mask and snorkel for Thailand. I SCUBA dive, and spearfish in my home city, and planned on diving in Thailand. The mask fit is super important, and it's pretty gross to use somebody else's snorkel, so I took mine with me.
Clothing
1 lightweight merino jersey. The only time I ever wore this was on the flights, where it can get a little cold
1 dress shirt
1 quick drying polo shirt
1 t-shirt (one on departure, I picked up a few more during my trip)
1 pair of black pants - most of the guys in Japan seem to wear shirts and pants even on super hot days and I tried to do the same. Thailand was generally the opposite.
1 pair of board shorts
1 pair of swim shorts
4 pairs of boxer briefs (2 pairs were the Icebreaker merino boxer briefs, which I highly recommend)
4 pairs of super thin, ankle socks
1 pair New Balance Minimus shoes - they're super light, low profile, quick to dry, and well vented for the hot Japanese summer.
1 pair of flip-flops
1 "quick drying" microfibre towel, which didn't dry very quickly, so was pretty disappointing!
Sunglasses
Toiletries
1 toothbrush
1 small tube of toothpaste
1 pack of dental floss
1 electric razor
1 small bottle of shower gel
1 small bottle of shampoo
1 small container of hair putty - my hair gets pretty puffy without it!
1 small roll-on deodorant - I'd hate to be a stinky traveller!
1 roll of toilet paper - you never know when you'll be without! It's important to store this in a waterproof bag (i.e one of the zip-loc ones) since, if it gets wet, it'll make a huge mess all through your bag. Don't make that mistake! :)

Small medical kit
Insect repellant - I initially had one with 80% DEET, but after finding out how insanely toxic it is, I ended up buying a different one containing Picaridin, which is non-toxic, and worked effectively.
Doctor-prescribed antibiotics
4 small electrolyte drink sachets
1 small bottle of alcohol gel for sanitizing my hands

Travel documents and cash
Passport. Double check it's expiry date, since many countries, such as Thailand, requires that your passport is at least six months from expiry
Thai Baht. I didn't get asked to prove that I had the cash, however it's required that you'll be carrying 10000 THB on entry.
Japanese Yen
JR Pass Voucher for the Japan railway. It's not possible to buy this pass once you've arrived in Japan, so you'll need to buy this pass before you arrive. On arrival, you can exchange the voucher you receive for the actual pass. When you do this, you can also schedule the day that it's going to be activated. I arranged to have it activated on my final day in Tokyo, before taking the bullet train to Takayama. The JR pass is only cost effective for the times you'll be traveling long distance, where a single fare could easily cost the same as the 7 day JR pass, so if you're taking a few long distance trips on teh bullet train, the savings are massive.
Printouts/photocopies of:

Airline tickets
Emergency contacts
Itinerary
Hostel bookings
Travel insurance documents
Passport (and scanned PDF copies stored in the cloud)
Miscellaneous
3 pairs of foam ear plugs. Interestingly, it turned out that the ear buds which came with my cellphone were more effective at reducing noise than foam ear plugs
Blindfold
Zip-loc bags to contain anything that I need to keep dry, and to contain the liquids when traveling through airport security
Plastic bags to contain dirty laundry / shoes / anything I want to separate from the rest of the stuff in my bag.
All of this fits into my 38 litre backpack, which is the maximum size that I'd recommend. Any bigger, and you'll be beyond the carry-on allowance, and it'll just get too cumbersome. I've had this backpack for years, and if I bought a new one, I'd consider dropping a size, to maybe 32 litres for extra convenience.
This isn't a definitive packing list, just one that I found suited me for the particular trip that I was on, especially considering it was summer in both countries I was traveling to.